Abrams Towing in Toronto GTA and Ontario.
Why is an Abrams Tow Truck visible in the fashionable Yorkville, in the middle of snow calamity?
This picture was just taken in front of Le Trou Normand restaurant on Yorkville Avenue.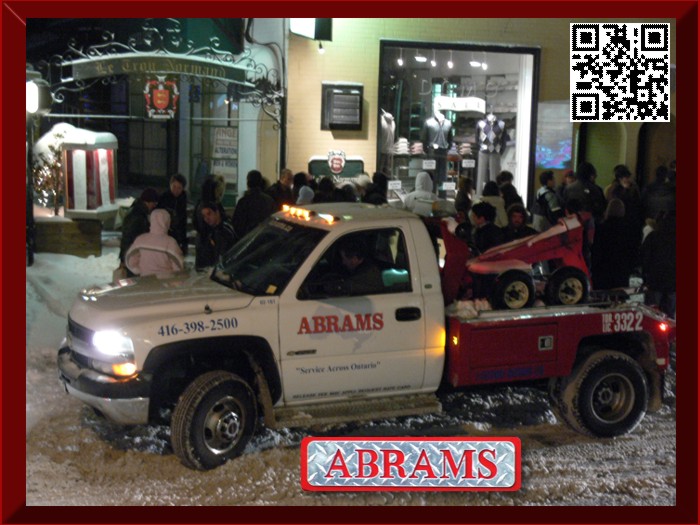 Abrams Towing Services Ltd. 93 Toro Road, Toronto, Ontario M3J 2E4,
Telephone: (416) 398-2500
Web site: www.Abrams-Towing.com
Winter driving is unpredictable and can be full of perils that you can't avoid, no matter how well you plan ahead. Just driving in the city to visit some fine dining restaurants with your family, date, friends or business associates? Nothing can ruin your evening more, like an unexpected car problem. From a simple car lockout, while you are in a hurry leaving a parking spot, to a dead car battery upon your return. Abrams tow trucks operators are fully trained to help you in any situation.
Now imagine that while you are in the restaurant enjoying your evening, you just had one too many!
Don't Drink and Drive Call Abrams!
As a responsible person, you know that you don't drive if you had one too many. If you do not have a designated driver to take you home, you might call a cab. How about your car, leaving it behind? It makes a responsible decision, but not an optimum one. Many parking lots do not allow overnight parking and leaving the car on the street might be an invitation to have your car towed by parking enforcement authority plus an expensive parking ticket. Driving home can become even more disastrous event. Your solution can be very simple Call Abrams to take you and your car, home in the same time. When you see a RIDE checkpoint, just ask the Abrams driver to honk and salute!
Now, it might be a good time to get prepared for such an eventuality:
Abram's phone number is 416-398-2500. Program it into your cell or Smart phone right now!
Did you know that Abrams also have Smart phone friendly .mobi Web site?
Scan the QR Code with your Smart phone to visit and bookmark the Website
www.Abrams-Towing.mobi. You can request the service by calling Abrams operator or using a Smart phone friendly Service Request Form.